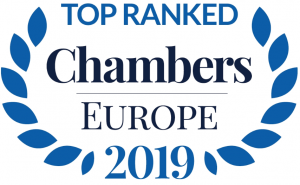 https://chambers.com/profile/organisation/22933884
The prestigious Chambers Europe 2019 ranking has identified the best law firms. The success of the Efrim, Roşca and Associates Law Firm has also been recognized this year, and the work of lawyers has led to a promotion to the top. Similarly, the professionalism of the law firm has led to climbing the top in the Corporate/Commercial category. Thus, the Efrim, Roşca and Associates Law Firm has been ranked Band 3 in the Corporate/Commercial category. The ranking states that the company is recognized due to its reputation and growth on the market. The client base is made up of national and international companies, and ERA lawyers provide advice on corporate governance, structuring, or insolvency. Clients say they are extremely satisfied with the flexibility of the team, which finds solutions to any problem at any time of the day. Moreover, clients state that the lawyers' team provides "accurate, well-executed and well-documented" advice.
Ilona Panurco, Senior Consultant, Head of the Consultancy Department, has been mentioned among the notable practitioners of the law firm. As regards the Litigation category, the ERA has been ranked Band 2, recording growth. According to the ranking, the team is known for its practice and increasingly prominent
reputation. The team manages a wide range of files related to insolvency, intellectual property, or collection of payments. The team also deals with "white-collar" crimes. Clients describe the ERA as being aware of local market issues.
The category of notable practitioners has included Oleg Efrim, Managing Partner of the Efrim, Roşca and Associates Law Firm, who is said to assist international companies in commercial disputes. Clients appreciate Oleg Efrim's experience in the Government and praise lawyer's approaches and strategies. Moreover, clients state that Oleg Efrim is very impressive in court.
Vlad Roşca, Partner of the Efrim, Roşca and Associates Law Firm, who represents both individuals and legal entities in complex commercial disputes, has also been included in the category of notable practitioners. Vlad Roşca also represents clients in hard cases at the Supreme Court of Justice. Clients praise Vlad Roşca's approach in court and say he is an effective litigator. Moreover, he has a vast experience in commercial litigation, and clients describe him as being exceptionally good. This year, two partners of the Law Firm has been personally recognized in the top in the Litigation category. Oleg Efrim has been ranked Band 2, while Vlad Roşca has been ranked Band 1. Vlad Roşca and Oleg Efrim have been recognized and ranked in the top of the Chambers Europe since 2007.
The Efrim, Roşca and Associates Law Firm is one of the leaders in the legal advice and advocacy market of the Republic of Moldova. The team is in constant collaboration with other law firms outside the country, which allows it to participate in regional and international projects with reliable external partners.